Difficult Questions Kids Ask About Divorce
Difficult Questions Kids Ask About Divorce, by authors Scheider and Zuckerberg, is a handy book that provides insight into typical responses by children experiencing their parent's divorce. The book is well organized, and clearly written. In particular, I found the section contrasting what kids literally say, with what kids likely mean, to be something I think all divorcing parents would benefit from reading. This book effectively analyses divorce from the perspective of the child. This book is accessible to the lay reader but would be useful to family court professionals as well.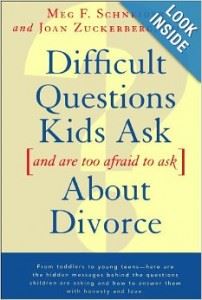 In particular, I found the following insights helpful:
Children can only understand what their age allows.
Children have trouble articulating their feelings.
Children are too frightened to ask the most painful questions.
Parents may be reluctant to listen.
When children do ask questions, their feelings may be denied.
Children fear their questions will hurt or anger their parents.
Some fathers are not practiced in addressing certain problems.
Children find solace in magical thinking.
What a child says may not be congruent with what they are actually feeling (fear):
"I'm afraid of being alone" becomes, in a divorce, "I'm being left alone."
"I hope the bad guys go away" becomes, in a divorce, "The bad guys are going to get me."
"If I do something bad, will you still love me?" becomes, in a divorce, "Did I send mommy/daddy away?"
"I wish I were smarter, prettier, faster" becomes, in a divorce, "I'm not good enough to make you stay."
A custody litigant may be inclined to hear only what they want to hear, and children may be reluctant to express their fears and questions, but an observant parent by being aware of their child's underlying fears, and their developmental limitations, may be able to put their child at ease.
Facilitate conversation;
Listen to Words and More;
Respond with Empathy.
Posted By
Smith & Sturdivant
Categories: